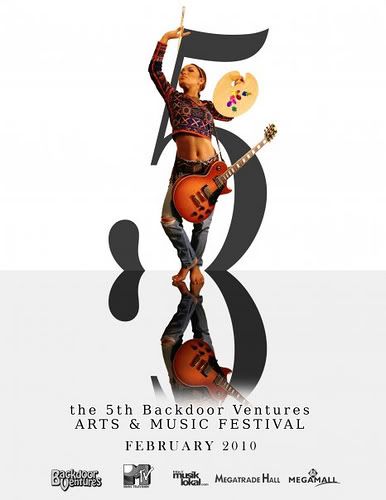 Surrender to the sensory journey within. Brace your senses as the
5th Backdoor Ventures Arts and Music Festival
takes you to a bigger venue…with an even greater roster of acts never before gathered under one roof!
The annual art gathering is the pioneer of all arts and music events in the country. Now on its fifth year, the Festival promises to showcase a grand lineup of activities, workshops, and performances that it is known for; raising the bar to a spectacular level year after year. With its growing audience and list of participants, Backdoor Ventures is moving to a bigger venue; this year it will be held at the Megatrade Hall 2 – a larger space adjacent to Hall 3, which has been the Artsfest's home for the past years.
"We're taking the next festival to a higher level as we celebrate the 5th staging of one of the biggest if not the biggest gathering of artists and musicians from different disciplines and genres in the country." according to Chief Event Organizer, Jay Viriña
Five years of bringing the people back to the arts and bringing the arts back to the people is definitely a milestone for the entire Arts & Music Festival family… We're really excited for this coming year's celebration. It just keeps getting better." He added.
As always, new and exciting activities will be added into the lineup. For one, schools and University organizations around the Metro will be taking a more active role in participating at the next Festival. The hall layout and the stage design is also something to look forward to!
The theme for this coming year is Labyrinth. "A labyrinth signifies a journey to the center.
We picked this concept to convey that art has been and always will be within us all…We've vowed to make it our very mission to take them (the people) back and embrace that center. Hence, the journey back to that core," says Yanna Verbo Acosta, Marketing and Media Relations Director.
The 5th Backdoor Ventures Arts and Music Festival will be held on
February 5 – 10, 2010 at the Megatrade Hall 2, SM Megamall
.
For inquiries and updates, call +63 2 951 3646 or +63918 540 3248. You may also log on to
www.backdoorventures.com
and
www.backdoorvent.multiply.com
for more details.